Goals for Fortune 1000 brands include scaling content even with the elephant in the room, ad blockers. My article from mid-2015 added fuel to this fire and many others in the industry have followed. The benefits of influencer content continue to grow and are mentioned daily in nearly every influencer article published. Influencer content cannot be ad blocked, and this is why it has become an important feature of these edgy and creative campaigns. I am still frequently asked one key question, "So what channels and which type of content are right for my brand?"
Influencer campaigns are not the right fit for every brand. B2B brands inherently face challenges which B2C brands do not since the target audiences on Snapchat, Instagram and YouTube are not an ideal match. It's not impossible, but you must choose the right channels. Working with the right influencer on LinkedIn, this B2B marketer could very well find success in reaching key decision makers and generating new leads.
In B2C, I'll say the "S" word again – my personal favorite remains Snapchat. From personal experience and the waves of articles being published daily, I strongly believe that Snapchat is going to be the best social platform for this kind of engagement. Snapchat going to continue garnering more attention as it reaches critical mass with the number of users and snaps sent/received. I am truly envious of Evan Spiegel and the unicorn he has produced. Snapchat is at the hockey stick stage for the growth in the number of daily users, with now over 7 billion unique pieces of content being consumed daily.
These Impressive numbers should be a wake-up call for brands which are saying "Hmm, I'm just not sure if Snapchat is the right channel for my brand." Well, if you are all about playing it safe and letting your competitors take advantage of this land grab, don't change a thing. Remain on the sidelines while other brands like Jolly Rancher, NBCUniversal, Marvel and others continue growing their audiences and engagement. This wait and see approach will only cost you more to acquire customers later as current users form their bonds with brands which are testing and learning what works with their audiences in the Snapchat ecosystem.
Recently in the news, Viacom announced a multi-year blockbuster deal with rights to sell its own content on Snapchat under the platform's "Live Stories". This is interesting yet boggling, since nearly 23 percent of Snapchat users never, yes never, watch live stories and a whopping 32 percent rarely do. So with 55 percent of users not tuning into these live stories, where's the real opportunity on Snapchat? Did you answer Discover? Unfortunately, this is worse than the Live Stories, with 54 percent of Snapchat users saying they never watch and 30% reporting rarely.  If you're adding this up you're not wrong calculating that 84 percent of Snapchat users never to rarely watch the Discover area of Snapchat.
So what is the way to reach audiences on Snapchat? The key is to work with influencers who are creating their own content and have amassed hundreds of thousands and millions of followers on their own Story where Snapchat users are tuning in. By tapping into these stories produced with influencers, you can reach the masses on Snapchat.
Across the various social platforms, most influencer campaigns are being measured on engagement and other tangible metrics. Some brands are implementing a strategy to track attribution, though there are inherent challenges here with noise in affiliate channels and competing digital ad spends sometimes taking credit for the conversion. Even with these challenges, more brands are increasing budgets and are beginning to shift advertising budgets, versus their PR or marketing budgets, to invest in influencer content. Research suggests that interest for influencer produced content has increased at both the brand and agency level.  According to Greg Manago at Mindshare, where their clients see influencer marketing as part of the strategy, "The question [from clients] isn't, 'We want to do something with influencers; what do you think?' It's, 'What's the influencer strategy for this program?"
With all of the investment beginning to pour into these emerging marketing initiatives, a simple question should be asked.  What is the purpose of which brands are using influencer content?  Lots of things, with content promotion being the highest at 67 percent. Influencer marketing, when done right, produces a burst effect of awareness perfect for movie premieres, new season launches in clothing or product launches in consumer products and electronics and creating quality content.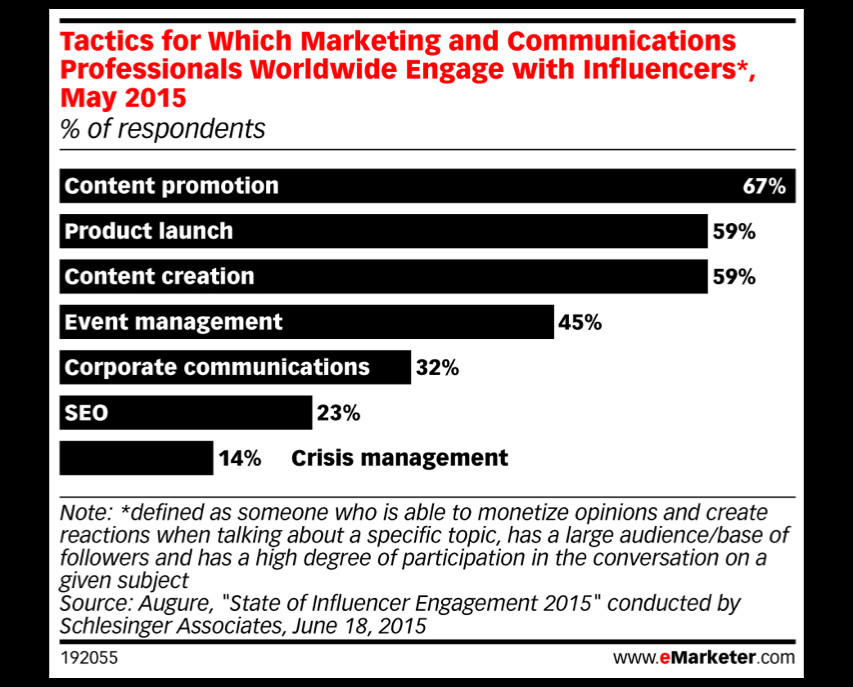 (4) Figure 1.1 Source: www.eMarketer.com
Another key point to heed for success is that brands should be open to working with a larger cohort of long and mid-tail influences versus the celebrity where you put your eggs in one basket and hope it works. An explanation I regularly use is that it's like a glass of champagne; are you happy with one or two bubbles in your glass or do you want hundreds, which has a more appealing effect and taste. By working with 10-100+ influencers, brands are benefitting by testing which influencers are driving the needle for brand awareness, views, engagement, etc. Also, on a channel like YouTube, each SEO-optimized video can be very powerful in filling the search results on YouTube, the number two search engine behind Google, as well as showing up in search results on Google.
Influencers are not actors
It's also important to remember that influencers are not actors if this is what you want then ignore the benefits of authentic and real content and stick with the script and lofty television commercial budgets.  In the spirit of quizzes here's a question with an easy answer: Are you more likely to trust a celebrity (where you know they are being paid for the endorsement and they may not truly be a fan or customer) or someone you know and trust on a personal level like that of a YouTuber?
If you didn't answer the YouTuber please take at a look at the chart below.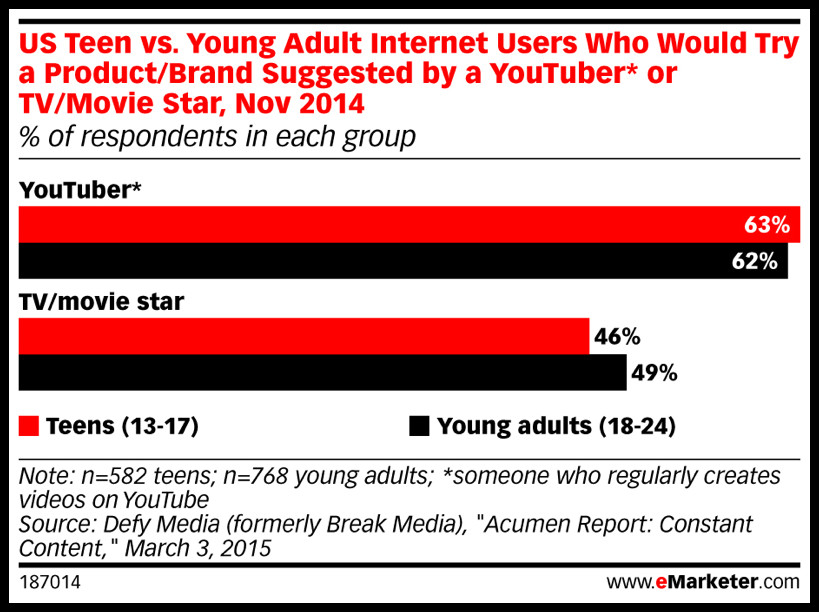 (5) Figure 1.2 Source: www.eMarketer.com
What to understand here is that influencer videos and photos are real, cheeky and engaging content which connect with audiences. Smart marketers have begun to realize the value in letting others command the brand's voice on these social channels. There is a happy medium when brands can connect, relate and partner with creators so the creators are excited and enthusiastic about the brand and its products.  We've all see bad examples of influencer content where it was forced, no one wins in these cases.
The key take away here is that traditional advertising has changed. Gone are the days when television viewers are watching and paying attention to commercials, minus the Super Bowl. If you still believe in this just survey your living room the next time commercials come on and you will undoubtedly observe your family members, friends and peers drawn to the screens of their mobile phones consuming content on social apps like Instagram, Snapchat, YouTube and more. The advertising landscape has changed and in the spirit of evolution the adaptive marketers will evolve or forsake their brands losing their sacred share of voice to their competitors, who aren't scared to be innovative.
Sources:
1. NewsCred
http://blog.newscred.com/infographic-how-consumers-really-use-snapchat/
2. NewsCred:
http://blog.newscred.com/infographic-how-consumers-really-use-snapchat/
3. eMarketer: http://www.emarketer.com/article.aspx?R=1013563&RewroteTitle=1&ecid=NL1001
4. eMarketer: http://www.emarketer.com/article.aspx?R=1013563&RewroteTitle=1&ecid=NL1001
5, eMarketer: http://www.emarketer.com/article.aspx?R=1013563&RewroteTitle=1&ecid=NL1001
Follow me on Snapchat: @robilas and Instagram: @robilas for video and photos chronicling interesting events related to my life of influencer events
Other posts by Rob Ilas:
The Viral Power of Content Marketing Using Influencer Campaigns
http://promoture.com/2017/05/24/influencers-viral/
How To Use Influencers To Drive App Installs
http://promoture.com/2017/05/23/use-influencers-drive-app-installs/